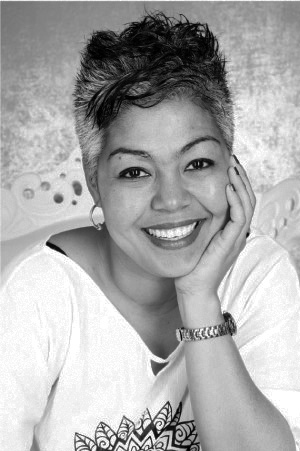 Russell Zehtab-Noghiu
Russell was born in the Philippines and spent her early years living in Iran, until she and her family were forced to flee the country when the Iranian Revolution broke out. Her family returned to the Philippines. As a young adult, Russell spent several months volunteering and traveling in India and Latin America. Having completed her Bachelors in Accountancy, Russell worked at a high-end hotel in Manila as a VIP guest manager. For a period of time she co-managed her family's clothing boutique's business. Later she moved to Israel, where she worked as a paralegal. There she met her Eastern-European husband. Invited to work at a University, Russell and her husband moved to Bolivia where Russell worked as the manager-administrator of the Universities' international development unit. Later she accepted a position as a teacher at a local private middle-high school.
Russell left Bolivia to pursue further opportunities in the United States. There she completed her Master's in Public Policy. She worked as an assistant to a former U.S. Senator on the co-development and facilitation of a Women's Leadership Development Program for women holding public office. She also worked for the State's Office of Management and Budget evaluating the State of Delaware. Having completed their education, Russell and family moved to the Netherlands where she dedicated most of her time caring for her young children. On the side she co-founded SCMLi.com, a network of professionals dedicated to organizational and leadership consultancy and PEPTalktraining.nl, a public speaking and personality development methodology for junior youth. Russell moved to Spain in 2016 where she decided to dedicate all her energy and time to contributing to the advancement of women. So, SILK Mentoring was born.
Russell's experience as an educator and trainer is reinforced by her magnetic personality and positive outlook on life and others. She speaks fluent English, some Persian, Dutch and Spanish. Her no-nonsense approach to things is second only to her soft approach in dealing with others' individual needs and perspectives. Russell enjoys learning, having a good time and being joyful. She adores travel and interesting experiences and deeply cares for her family. She strives for balance, and it is this set of qualities which she brings to her engagements via SILK Mentoring.
In my sessions with Russell in SILKMentoring, I was able to realize many things about life, but the biggest lesson that struck me was self-realization.
Before I attended my first session, I thought I knew everything there is to know about myself. I thought I knew every fiber of my being, but little did I know that there were still a lot to discover.
I realized that I am a kind of person who tend to block out the negativity from myself and other people and just focused on things that would make me happy because I believe that real happiness comes from within. Real happiness comes from being content and proud of who I am.
We have to accept the fact that we are all different people, we are good at different things and have different paths to take, so we do not need to compare our life with others. We have to be content with what we have and not worry too much about other things. Because worry only puts our lives in disequilibrium so we must accept the fact that everything happens for a reason and trust that everything will fall into place. We have to believe in ourselves, believe in our path, believe in our decisions, and keep moving forward.   
I was very happy with the sessions especially since I felt confident to share details about myself because Russell made Silk a safe space for me to open to.  She has provided us support, guidance, and motivation. She also offered us personal development tips and has made us feel fulfilled about our own paths. I feel very grateful and thankful for having the opportunity to meet Russell and be one of her mentees This is truly a once in a lifetime experience.
I decided to participate again in the (Apr to Jun 2021) SILKMENTORING Program for Asia Pacific, because I know that whatever I have learned from the first time, will be reinforced further this time. I realized that the more we engaged ourselves in this empowerment program, the further & more equipped we become because of the following reasons:
A more diverse groups of ladies shared varied, multiple & new experiences
We get to know more personalities, capabilities & strengths/weaknesses when we were assigned to different groups during every interactive session.
Individual experiences shared with partners opened opportunities to understand better how life's circumstances had influenced not only one's happiness, success, well-being but also one's pain, failure & the seemingly insurmountable challenges & difficulties one experiences.
The Framework of the SILKMentoring Program had guided us in our analyses, evaluations & decision-makings to pursue the lines of actions we should/would have chosen in dealing w/other people's nuances, circumstances & challenges to be able to live joyfully for our own sake & deal wisely/peacefully w/stressors caused by people in the different spaces around us.
The fact that SILKMentoring assured us of a free, safe & secured space for our exchange of ideas, sharing of life's experiences & be empowered by our fellow ladies, morally supported by their individual cases, gave boost to our otherwise depleted confidence, helplessness & clouded views.
SILKMentoring introduced us to these empowered ladies who were there to lend a hand, to stand in serried line for our support & to become the "wind beneath our drooping wings!".
Thank you, Russell, for your loving patience in guiding us traverse our individual path in life through your SILKMentoring Program. Indeed, our NOBILITY shone forth through the Framework you so clearly & wisely delineated for us to follow.
I was privileged to join SILKMentoring along with other remarkable women.  The program ran for 10 weeks and with every session, I gain deep reflections through the topics that were well-designed to fit every one's personal journey. It was a pleasure to meet other amazing people in the breakout rooms and I learned much from listening to their stories. Russell has the unique ability to bring out deep insights within every participant and lead everyone into a profound experience of empowerment and discovery.  She masterfully utilizes the tools available to her including her voice and her articulate messages on Nobility and Self-Awareness, among others.  Her grounding allows me a deep experience of affirmation as she manifests words into positive feelings.  All that I have gathered from this experience in turn allows me to take these lessons with me and apply it in my own profession and personal life. I am grateful to have been part of this program, and as I grow, I also become a support for others to grow using the lessons I gained from this experience.
I am greatly thankful for the opportunity to be mentored through SILKMentoring. The bonding of sisterhood with my SILK classmates was beyond my expectation. I am personally strengthened through different real-life testimonies and experiences. Indeed, women can be understood further by other women. I am much more confident in saying NO (if and when I want to), and understanding myself. Setting boundaries has made me more productive. Thank you for making me realize the concept of Nobility, which in turn can make each of us appreciate life at its fullest and with a purpose. I highly recommend your mentoring sessions. It is a must for all, regardless of age, belief, and status in life.
I have been a gender-fairness advocate since the early 1990s. Through advocacy, I have participated in international-assisted projects that use GAD analysis tools in assessing rural development projects and worked in a government program focused on Gender and Development with the University of the Philippines. As a strong believer in gender equality, I was initially hesitant to join the SILKMentoring's Empowerment Program because I thought I was familiar with most of the topics in my field of expertise. I decided to participate anyway, and it was one of the best decisions I have made. Every gathering is packed, and it gets more and more exciting and complicated. The learning approach is very adult friendly and did not negate nor discriminate my internally stored knowledge as an individual. Unlike other courses I have participated in, that considers their audience empty shells, SILKMentoring's approach is about adding value to one's own knowledge and life experiences using a conceptual framework that is centered on human Nobility. I feel rekindled in my inner core values and I am exploring some of my current social beliefs (in a positive way). SILKMentoring sessions are internal and external explorations anchored in core values that each individual possesses regardless of sex or gender.
I had hesitations joining the SILKMentoring program because it just wasn't my style to open up and share life experiences with relative strangers. Not knowing that embarking on this journey was one of the most life changing experiences l have been through. Listening to the experiences of my fellow participants from different walks of life gave me realizations and opened my eyes to the world around me. Every session was very fulfilling and left me thirsting for more knowledge. Actions speak louder than words. During these sessions, Russell enlightened us on the meaning of the words like "Nobility, Self-Awareness, Decision Making, etc. and how to apply them in our everyday lives. Learning and applying all the different concepts using the SILKMentoring Conceptual Framework gave me the courage to open up and share a part of me. Ten sessions wasn't enough for me and I am looking forward to all the future discussions and gatherings. Russ, you have indeed made an impact on my spirit as a woman, an impact I know l will bring with me for the rest of my life. Thanks to you, l am more confident and I am inspired to become a better version of myself everyday. You helped us make better life choices, be positive in sharing our talents and be a positive contribution to humanity. THANK YOU  most of all for being an AMAZING FRIEND.️